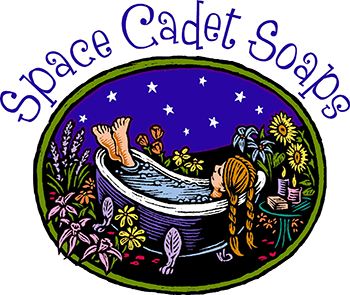 Space Cadet Soaps didn't arise from a calculated business plan. The business was born from a home school project facilitated by a mother of three boys with a deep passion for crafts.
"I didn't start with any intention of starting a business, but rather just creating something in my kitchen, as someone who thoroughly enjoyed creating things that reminded me of past generations," says Space.
In 2007 Space Welch was tasked with teaching her 5,7, and 9-year old sons about colonial history and herbal medicine. She chose to approach the topic hands-on and in the end, Space was left with more than she could have imagined.
Now, ten years later Space's soaps and salves are a treasure of Athens. As she reads excerpts from her customer testimonial journal, the passion for her craft is clear with every eager syllable.
Even prior to her unorthodox introduction into business, Space had quite an interesting journey. We've collected a few of our favorite facts that Space has shared with us throughout our partnership:
Space met her husband, Smiles while she was hitch hiking across the country.
Smiles is actually featured on one of his wife's products..The Beloved Beard Oil
Space and her family lived in a school bus for over 3 years, a traveling motor home for 2.5 years, 2 tents for 2-3 months at a time, and in a VW bus while moving across the country in 2009.
Space's "Forest Soap" is named after her oldest son, Forest.
Surprisingly, there's no bizarre explanation for her Monkey Farts flavor. The scent comes from a fragrance oil titled, "Monkey Farts" that intrigued Space...and apparently smells fantastic!
Space's favorite product is her Herbal Skin Salve, "It's an introduction into the wild and magnificent world of herbal medicine. The salve often sparks an interest in folks that visit my booth, and especially in children, over what sort of medicinal wonders are growing in their yards," says Space.
Her favorite thing about soap making? "That it still feels therapeutic to my soul. I get in a rhythm and just spend hours creating soap and praying and thinking. On a couple of occasions, old friends of mine have died, and the most healing thing to do, as I processed my grief, was to make soap. Not many people can say that their "job" is nourishing and healing to their soul."
Space credits her family immensely for her business. "Without my family, this business wouldn't exist," says Space. Her family has built a substantial spread for her...the loft she uses to store oils, the shelves she uses to cure soap, her soap molds, and even her vending display. Space praises her husband, Smiles most of all. He enabled her to invest both time and money into her dream. The startup cost of her business was covered by his labor, "he's a rock star and he believes in his wife's vision," says Space.
"It's just pretty amazing to have a crew of people cheering you on, encouraging you to do what feeds your soul. That's part of why I love this town. Because if I didn't have a crew of neighbors telling me to keep going with it, that they'd buy my stuff if I made it, well, then this business would have been a long expired dream."