Posted by Tristen Phipps on 15th Apr 2021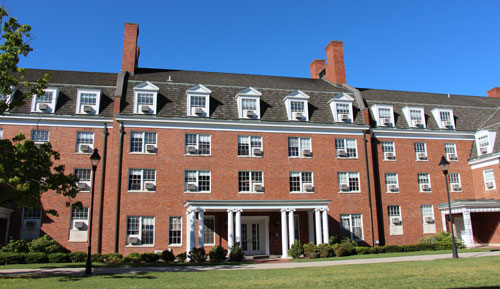 From the outside, Ohio University's Wilson Hall appears to be another quaint college dorm. Tucked in Ohio University's West Green, the red brick building is supported by tall, aging white columns and sits atop an elongated bed of green grass, with shrubs popping out systematically.
Wilson Hall's fourth floor carries a dark, haunting secret. The lofted ceilings of room 428 haven't seen a new student in decades. The door, sealed shut, longs to be opened – but the knob shall not turn, the window will not open, for the room was declared uninhabitable years ago.
After several reports of objects flying off of shelves and shattering into the walls, the door slamming open and shut, again, and again, the university has shuttered room 428. The room has seen death more than once, and its most recent victim is said to still inhabit her room. She practiced astral projection, harnessing the room's energy to attempt to allow her soul to leave its human body.
Wilson Hall is also the center of the alleged Athens Cemetery Pentagram. A pentagram shape that's formed by the connection of five cemeteries with Wilson Hall sitting in the center. It's also rumored that the dorm building sits atop a plot of graves, originally part of The Ridges cemetery grounds.